The Payroll system allows the operator to setup employees (hourly, salaried, commission, piece rate and more) with no limit as to the number of deductions, earnings types, and taxes. The employees may be grouped together, for example: executive, union, part time, commission, etc. for entry, processing and reporting. Posting may be made manually, automatically from a setup, through time clocks, by job if needed, etc.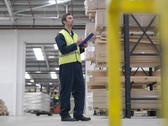 Payrolls can be calculated and reversed if there is a problem either in part or in whole. Checks or direct deposits can be handled. The operator can print varying info on a pay stub including notes on checks as required. The operator may print hundreds of reports using the variable options available on each reporting screen. Some of the reports include payroll register, deduction, earnings, withholdings, check register, company summary, taxes, general ledger, job, task, user defined history, seniority, etc. The direct deposit information is electronically transferred to the defined bank using employee setup bank account numbers. The General Ledger is automatically posted. All data is stored in history files and all reports may be printed for as far back as data is available. Vacation and sick pay accruals are available along with plans for each. The plans have an auto switching capability based upon months worked by the employee. An arrears capability for deductions is available. 401K and cafeteria plan processing is available including employer matching programs.

PY Data Sheet | PY HP3000 Releases | PY Open Systems Releases

Copyright 2012 Genesis Total Solutions. All Rights Reserved.