Genesis offers 11 modules separate modules that can be used individually to address a specific requirement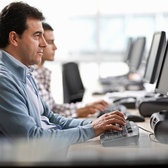 such as payroll, or they can be grouped together to provide an integrated solution addressing the Fulfillment (Ship4u), Distribution, Production, and Accounting needs of a business. If you are interested in an fully integrated solution then click on the solution button below to be taken to a screen which explains what modules they entail and how they work together to address a businesses many requirements. All of our modules are controlled by a security system that allows the operator to control who has access to what module and what they can do with that modules. Security can provide a user access, no access, limited access, and read only access to modules. We also can offer many other services which are listed below and include consulting, customization, and support.

To learn more about our solutions click on any module.

This is a specialized solution designed to help businesses in the Food Industry to process all of their data. For instance, there is a recipes file that can be loaded with the ingredients, processes (mixing, baking, packaging, freezing, etc.), instructions, number of employees required, labor rates, overhead costs, etc., for a specific product. This file is then used to create a work order, that when completed, will update quantities, production costs, and yields for a production run. This data will then be carried to Inventory. Purchasing will be used to order the ingredients used by Recipes and write all receipts to Inventory. Our solution can handle multiple units of measure such as one for orders and one for consumption (ordering in bags of flour and consuming in lbs of flour), or in the case of a finished goods, one for a production run (each) and one for sales (boxes, cases, etc.). Lot numbers of both ingredients consumed in the work orders and lot numbers for finished goods are recorded for later retrieval and reporting. A planning function is included as part of the Recipes production process. We then integrate this data with Distribution to allow for the selling and shipping of all products. Finally, our Accounting modules incorporates solutions that can record and report all dollars - thus providing a complete Total Solution for the business.



Ship4u is a web based fulfillment solution. Whether you are a 3PL logistics company processing orders for many clients, or if you have your own inventory and receive orders through the phone, the web, a catalog, etc., Ship4u can be your fulfillment solution.
The system manages clients, orders, has a call center, can import files from many sources, controls your inventory, warehouse, picks, shipments, and has interfacing to most manifest systems. Ship4u is generally provided as a hosted solution that you access through the web. Your data and programs are located off site so you will not be required to purchase any special equipment, nor have to maintain that equipment or hire an expensive IT staff. Your clients can also access their data, with your permission, remotely from anywhere that the web is available. Reports can be sent to the web and be made available in many forms such as Excel. To learn more just click on the button to the left.



Distribution is a solution that resides on the customers site and handles the

Inventory

that you purchase through our

Purchasing

module or which is made through

Production

or

Recipes

. Next

Order Processing handles orders and controls the shipments to the required customers (either wholesale or retail).The system then passes that data through to Invoicing and Receivables

to processes invoices and all payments and credits required and to accumulate Customer and Product History. Our

General Ledger

, from

Accounting

, can then post that data to the financial statements.




Production is a flexible and powerful module that enables its users to control the creation of sub assemblies, batches and finished goods Inventory. The materials that make up the bills' of materials can be processed in from Inventory which can be purchased through

Purchasing, so Production and Distribution work very closely together. Production can track the labor, material and overhead costs associated with Production. The system was designed to work for both the discrete and process manufactures. Production has a planning function where an operator can plan customer orders, production, material receipts, and compare the plan to actual work orders, inventory, customer orders, etc. This allows the operator to note when they may need to ramp up or cut back in production or where bottlenecks may occur due to limited materials, labor, or processes. The system can define instructions, machines or processes that are required, etc. Labor, material, and overhead costs can be accumulated and added up to produce a true cost of the manufacturing process for any item. This cost is transferred to Inventory

and can be carried into all accounting modules. History of every work order is kept to track production costs for as long back as is required. To learn more just click on the button on the left.




Accounting can tie all of the other modules together to account for the dollars associated with any process. The Accounting system is made up of 5 modules that can operate separately, if that is required, or as an integrated solution to meet the entire needs of a business. It can be integrated to any and all of the systems above including Ship4u, Distribution

or

Production

. To learn more just click on the button to the left. The system is made up of the following modules, each of which can be clicked on to learn more

General Ledger

,

Accounts Payable

,

Payroll

,

Human Resource

and

Depreciation.