The module allows an operator to setup vendors, buyers, GL interface, and buying classifications to help process purchase orders. Vendors can be setup in Purchasing and be copied to AP or read into Purchasing from AP. The operator may use an optional requisition system to allow users to make their requests, allow a department head to approve it or not, and allow the buyer to approve, deny or change the requisition. RFQ's may be sent, quotes posted and used to auto cost items from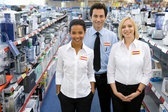 vendors and a substitution capability is available. Purchase orders may be directly entered and printed if requisitions are not used. Buyers can be limited to only certain classes of vendors or dollar amounts. Orders can be changed, deleted or received against. The receiver option allows an entire or only selected items to be accepted along with quantities. Items not even in the original order can be received. Both Inventory and non Inventory items can be processed. Inventory items will be posted with costs to Inventory. The GL interface allows posting to Inventory and Inventory accrual accounts. History is always available for review and may be used to auto create recurring or repeated orders. Matching of receipts to Accounts Payable invoices is available. Multiple delivery dates may be used for the same item on a PO. Online queries are available by order, vendor, and item along with lookup tables to search item and vendor numbers by a wild card description.

PU Data Sheet | PU HP3000 Releases | PU Open Systems Releases

Copyright 2012 Genesis Total Solutions. All Rights Reserved.