This module allows a bill of material to be setup for items which are manufactured. The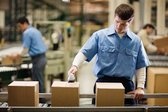 operator may setup processes (operation or routings), labor (direct and indirect) costs, and overhead cost tables. These are all assigned the items to be manufactured with the raw materials quantities and instruction used in the production process. Items can be finished goods or sub assemblies used in the production process. Work orders are created from these items. The work orders can be for the finished goods or the sub assemblies or both, all created from the single highest level bill of material. As each sub assembly or work order is completed the finished product will write to Inventory and pull down the used material. All costs including labor,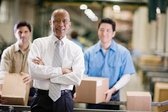 material and overhead will be used to write a new cost to Inventory. A history of all processing is kept for reporting. Materials may be pulled down before the completion of any item as required. The yield and efficiency of each production process is stored and reported. An optional planning section is available which can read Order Processing for customer requirements, Purchasing for raw material receipts, and Production Control for work orders. Also, the planning function allows the creation of forecasts of customer orders, production and material receipts. All of this is used to project material requirements, which also looks to Inventory to produce a plan for product. If there is going to be a shortage of materials it can be reported by period of time. A look to equipment required allows the operator to see if there is adequate machine access available for the actual or forecasted work orders.