| | |
| --- | --- |
| | |

Accounting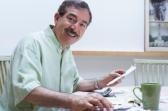 can tie all of the other modules together to account for the dollars associated with any process. The Accounting system is made up of 5 modules that can operate separately, if that is required, or as an integrated solution to meet the entire needs of a business. It can be integrated to any and all of the systems above including Ship4u, Distribution, Recipes or Production. To learn more just click on the button on the left. The system is made up of the following modules, each of which can be clicked on to learn more.
General Ledger



This module accumulates all of the dollar entries from all of the above, or can be interfaced to other systems, to collect your General Ledger entries. A user defined chart of accounts can be built. Up to 13 periods can be processed along with budgets, forecasts, and ratios. History is kept indefinite and reporting can be done for past years and periods at the users request. Multiple companies, divisions, departments (cost centers) and accounts can be created using an up to 24 position identification. Comments, references, dates, periods, the operator can all be recorded an each transaction. Standard reports such as a Balance Sheet, Profit and Loss, Trial Balance, and General Ledger are all available along with a user defined financial report writing option. Standard entries, recurring, general journal, drill downs, reversals are just a few of your options. General Ledger is a powerful and flexible tool to manage and report your business dollars.

Accounts Payable



This module process the payables invoices for the inventory, materials, supplies, services, etc. that occur in managing a business. It has interfaces to

Purchasing so that receipts can be matched to invoices to assure of the proper quantities and costs for each invoice received before it is paid. The module directly interfaces with General Ledger

to carry forward the cash, payables, discount, pre-paids, expense,

Inventory

, etc. entries that are being made. The user can produce reports such as Open Payable, Aging, Check Registers, GL Distribution, Discount Availability, Paid History, etc. 1099, positive pay, electronic funds transfer, recurring invoices, po / invoice lookups, split invoices, are just a few of the functions available in this module.

Payroll



This is a comprehensive payroll system that allows any number of employees, taxes, deductions, pay schedules, and rates to be setup. Salaried, hourly, and piece rate employee's can be handled. A job costing function can be setup where the job and task for the employee is recorded along with the department that they are reporting out of. The system produces tax, labor distribution, deduction, earnings, workman's compensation, seniority, W2's, 941, etc reports. The system can be setup to handle 401k deductions and direct deposit employees. The system has the option to process vacation, sick pay and miscellaneous accruals then compare and report those accruals verses actual. All totals can be interfaced to the General Ledger
Human Resources



This module is directly connected to

Payroll but is an optional function. It carries data about the employee that is not just gross to net as Payroll does Some of the functions covered include reviews, educational background, EEOC, dependents, insurance, in case of emergency information, green card information, are they a veteran, do they smoke, etc. There are user defined fields where the operator can record and report on virtually any data that the employer may need to keep on an employee. With this data both on line inquiries and reports are available that the operator can use to search and display information. For example, if it was required to know all who have worked for the employer for at least 5 years, were male, and over 40 that could be displayed / printed. Or all females who are married, with dependents, and who have no insurance could be found. There are literally an unlimited number of such inquires possible.



This module is used to collect, process and report on fixed assets owned by the business. The system allows 5 schedules to be processed at the same time for any item. Those schedules can include book, tax, alternative minimum, ACE, and a user defined way. The module can calculate straight line, Acrs, Macrs, sum of the years digits, etc. Reporting can be for any one method or as comparisons where differing tax schedules are displayed side by side. We can produce a sold / purchased report in a year. We can also track items identifying where they are located and who is the responsible person(s). The calculations includes a mid quarter convention process at the end of the year. Totals can be interfaced to the General Ledger

for reporting.
Copyright© 2012 Genesis Total Solutions. All Rights Reserved.